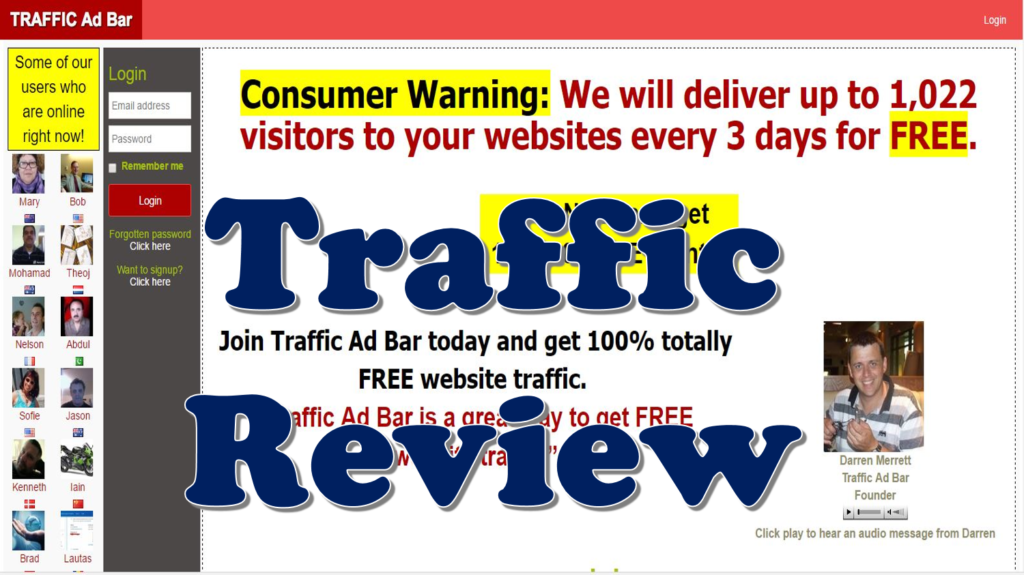 Traffic Ad Bar Review
Up to 1,022 free visitors every 3 days
Earn credits from surfing and promoting
Promote yourself with a TAB Profile page
Gain traffic from other traffic exchanges
Up to 35% commissions
Overview
Traffic Ad Bar is a traffic exchange with some very innovative ideas. Just like any other traffic exchange, you view other member's websites to gain credits. The difference here is those credits don't automatically turn into views. Instead, the credits will put you in a ladder system that will determine how much traffic you get to your website by comparing your credits to those of the other members.
Level Ladder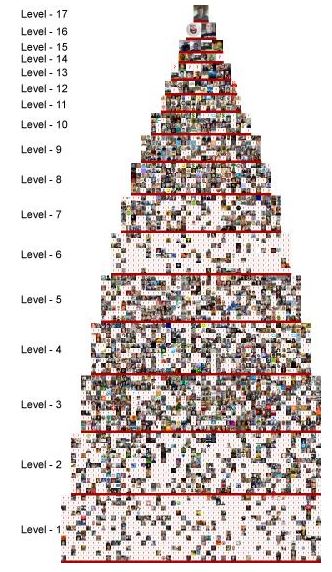 The level ladder in Traffic Ad Bar has 17 levels. Level 1 is the bottom and level 17 is the top. The members allowed in each level starts with 676 members on level 1 down to 1 member on level 17. The higher you are on the ladder, the more hits you will receive in a 3 day period. The ladder is reset every 3 days according to the amount of points gained by all members in the previous 3 day period. Every member on level 10 and up gets 1,022 hits every days. You can also gain hits from bonus pages found on every 25th paged surfed each day. Here's the visitor breakdown per level.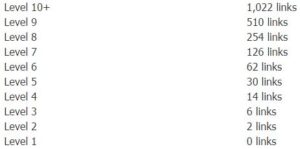 You can earn points in several ways like clicking the links in the daily email, promoting your sites with the Traffic Ad Bar banner, adding their widget to your website and of course, surfing other sites.
Membership Levels
In this image you can't see the price of the pro lite membership because that's the one that I used to review the site with. the cost is $9.99 per month. As an added bonus for being an upgraded member, your sites will be added to the daily email links sent out by the site. The email is just several links that earn points when clicked on. These earn more points than the normal sites found while surfing.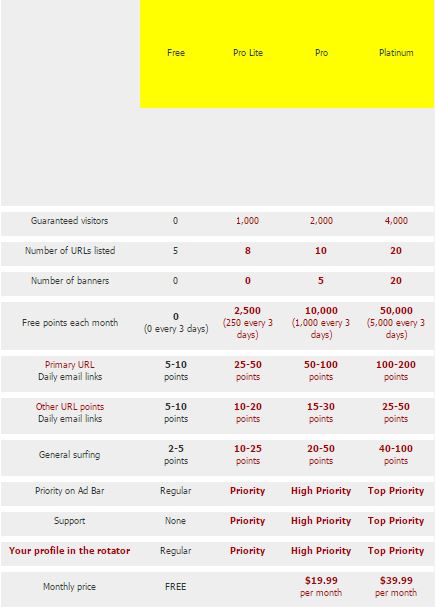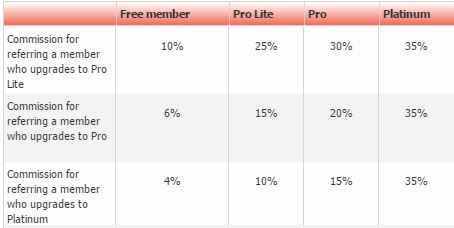 Extras
There are a lot of features to Traffic Ad Bar (TAB) that we see in most modern traffic exchanges but there are two of them that really stand out and sets TAB apart from the others.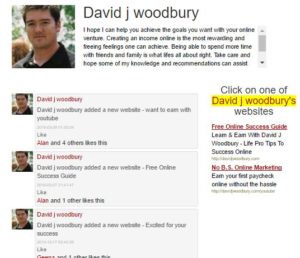 The first is the member profiles. Your TAB profile has a picture, a brief description of yourself or business, all of your links that your currently promoting, and a list of your recent activity on the site. Things like changing your links, people who like your sites or the sites that you like from other members. The profile pages of upgraded members are displayed in the traffic exchanges and members earn huge payoffs for clicking on one of the links in a profile. The other feature I want to talk about is the TAB banner links. These links are created for each site you add. The link will display your website with a TAB banner across the bottom of it. You gain points every time someone views this link or click on one of the ads. You can also gain referrals for TAB.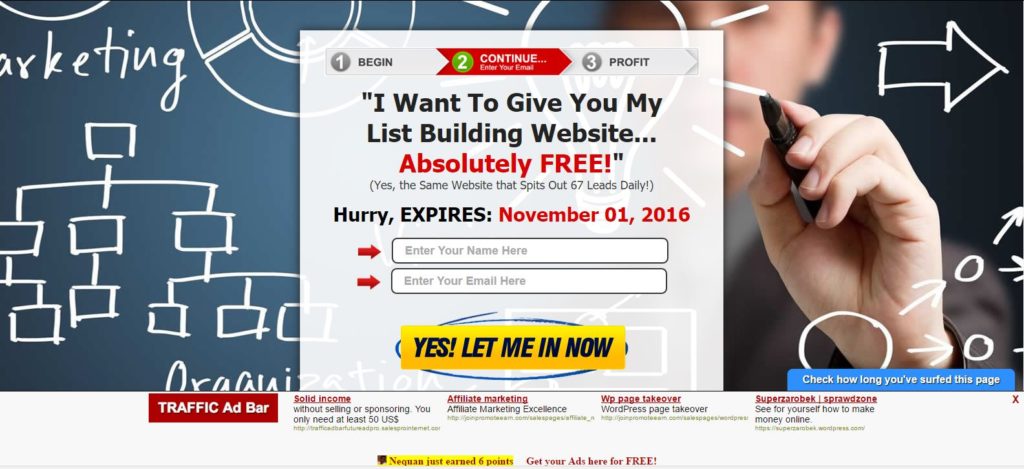 You can also put an ad widget on your site that has those same Traffic Ad Bar ads. Similar to
Leads Leap
, you can earn points when visitors to your website click on those ads.
Results
For this review I used two squeeze pages, My
Free 1 Hour Traffic
page and my
Free Money Making Website
page.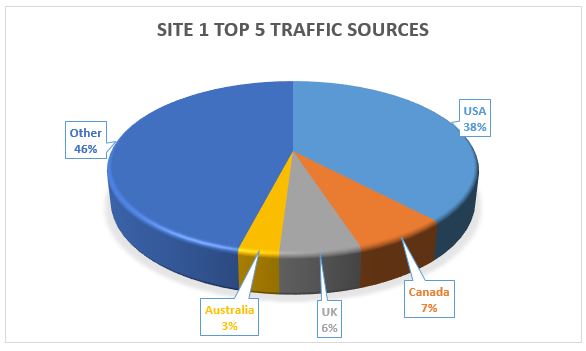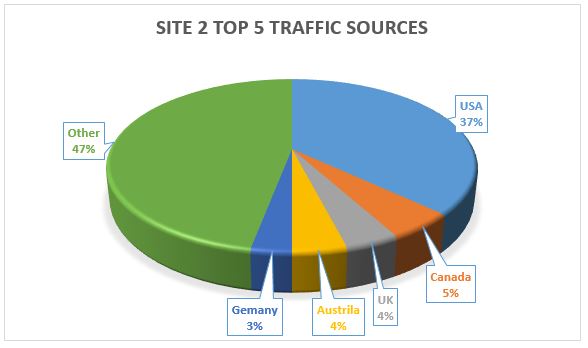 The traffic at Traffic Ad Bar suffers from many of the same pitfalls of all traffic exchanges. The traffic is more intrested in surfing as fast as they can then actually paying attention to other member's sites. Even though there is  a 5 second timer, it starts before your site even loads. This results in many visitors leaving your site without actually viewing your ad. This hurts the qaulity of the traffic. With that being said, these are still good conversions for a traffic exchange.
Final Thoughts
Traffic Ad Bar gets good conversions on a traffic exchange level but I can't recommend this to free members. The way the level ladder system works, all the members will be competing with each other to gain traffic. If you look at the perks for upgraded members, free members just can't compete with them. Sure you get 100,000 points when you first sign up but points on this site last for 3 months. It takes a lot of surfing for a free member to earn 100,000 points. That means that you will be competing with new members as well. I will only recommend this site to those who are willing to upgrade.

Traffic Ad Bar Results
Transparency

Price

Extras

Quality
Summary
Transparency - It's obvious that most of the traffic is coming from Traffic Ad Bar but there are other people earning points by promoting your ads on their websites and other places. This ads an unknown element to exactly who is viewing your ads.
Price - I paid $9.99 for the light pro membership. At the end of my membership period, I had 9 new subscribers. That means I paid $1.11 per subscriber. That's a good rate. Especially for a traffic exchange.
Extras - The extras are useful for building a brand or getting more out of your advertising but ultimately you can get by just fine without them.
Quality - You can't really expect much from a traffic exchange. This is why I stay away from them. This one did surprise me however. The quality of traffic is good for a traffic exchange but poor overall.
Comments Rating
( reviews)