Note: This site is no longer available

No work required for free members
3 different forms of advertising

Up to 75% referral commissions
Overview 
The Mega Wealth Ultimate marketing System is a wealth of free and paid advertising. You get banner ads, text ads, solo email ads and several tools such as url tracking and training videos. Upgraded members even get squeeze pages and an auto responder. The banner and text ads are all on the site itself. You see them at the top and bottom of every page when navigating the site. The site gets about 1,000 visitors a day so the free ads will last a long time. I have no idea where the emails are going to. As a free member, you don't have to read any emails so your not mailing other members. I do get clicks from emails so someone is reading them. Perhaps they have a deal with a few safelist sites. Here's a list of some of the things offered to their members. You can check their site for a membership comparison.
Free Members 
1,000 solo mails a day. 25,000 banner ads on sign up and 1,000 banner ads a month 25,000 text ads on sign up and 1,000 text ads a month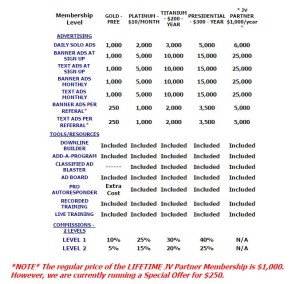 [rwp-review-form id="0″]
Final Verdict
The traffic from the site isn't the greatest. I have gotten a few opens from the emails and clicks on my banner and text ads. On the solo mails, it's very hit and miss. Sometimes I'll get some opens but most of the time I don't get any. From banner ads I'm getting a 0.6% click through rate with a 25% conversion. The ads do work, you just wont get much from it. It is all free so you're not losing anything from using it. You can join set up banners and simply send out mails everyday. You should get better results if you upgrade but it's up you if you want to risk it or not.
The Mega Wealth Ultimate marketing System Review
Targeting

Price

Extras

Quality
Summary
Targeting - You know where all the traffic is coming from except the solo ads. All of the people seeing your banner and text ads will be interested in building their online business.
Price - The amount of advertising you get for the price is great. The only problem is that the quality of the traffic isn't so great. Although upgraded members get a ton of ads every month, I don't think the price is worth it. You would be much better off trying it out for free and only upgrading if you get good results.
Extras - This is where Mega Wealth really shines. They offer several tools to all of their membership levels. I didn't try out the autoresponder since it's for upgraded members only and I didn't want to waste any leads but if you feel like this is something that you want to go "All in" with, then this would help you save a lot of money.
Quality - This is where Mega Wealth definitely needs some work. The website is not very popular and the traffic is slowing down. This means that your ads will be seen by very little people. The fact that conversion rates on sites like these are already low only makes things worse.