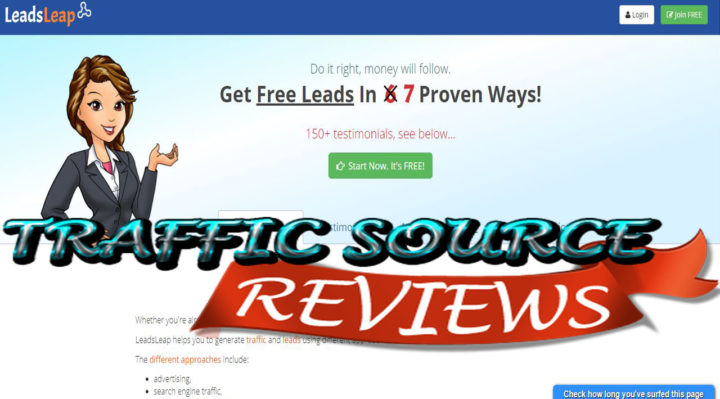 Free targeted traffic
Free Popup Generator
Free Link Tracker
Guaranteed earnings for all members
25% and 50% Commissions
Free training
Free lead magnets
Overview
Leads Leap has been around for a long time. I originally joined the site several years ago and used it off and on ever since. I always considered the site useful but not really a that much different than many of the other text ad exchanges out there. That changed when I found about the new 2.0 upgrade. Leads Leap 2.0 has added several features that has now set it apart from every other exchange out there. it has now made its way back up to one of my favorite traffic sources.
Features
Free Quality Traffic
The way the exchange works is like any other exchange but with a small twist. You create your text ads and view the ads of others to earn credits for your ad. Instead of having a visible timer when surfing, you are simply rewarded for the amount of time you spend on each ad up to 3 minutes. The longer you stay, the more you earn. And their anti cheat filters make sure that you only earn credits for actually keeping the site in focus rather than just opening it in the background. This greatly increases the quality of the visitors because they are actually looking at your page instead of a timer and they don't mind sticking around for a few minutes. Another way you can earn credits is by rating ads. Each ad has a visible 5 star rating under it. This means that if your ad is actually good, it will get good ratings. Good ratings will lead to more clicks and conversions. Finally there's the viral aspect of Lead Leap. You gain between 5% and 20% of the credits that your referrals earn down 10 levels. Plus, during the daily member email that gets set out by the admin, those 10 levels of referrals will see your text ad in the email. You can even specify a different ad for your downline than for the rest of the site.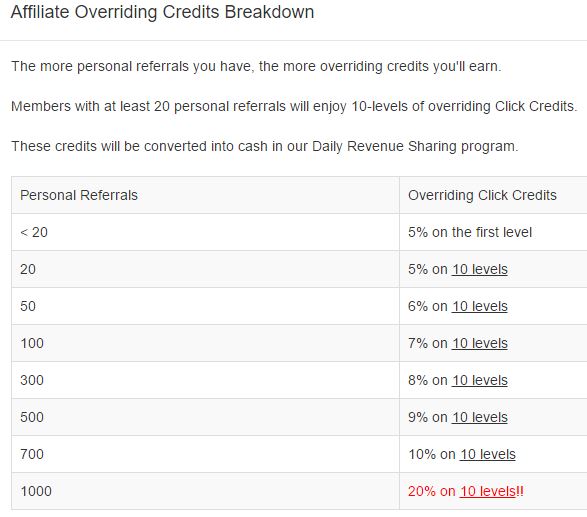 Free Tools
Leads Leap has several free tools that are useful for any online business such as a link tracker, a popup/banner ad creator, a website builder with giveaway rights, and a rebrandable ebook that you can giveaway. My favorite tool will have to be the link tracker. They call it The Real Tracker because it tracks how long visitors stay on your site. Any visitor that doesn't keep your site in focus for more than 5 seconds is considered an invalid click. This is incredibly valuable for determining the quality of any traffic source. Needless to say, I will be using The Real Tracker for my reviews from now on.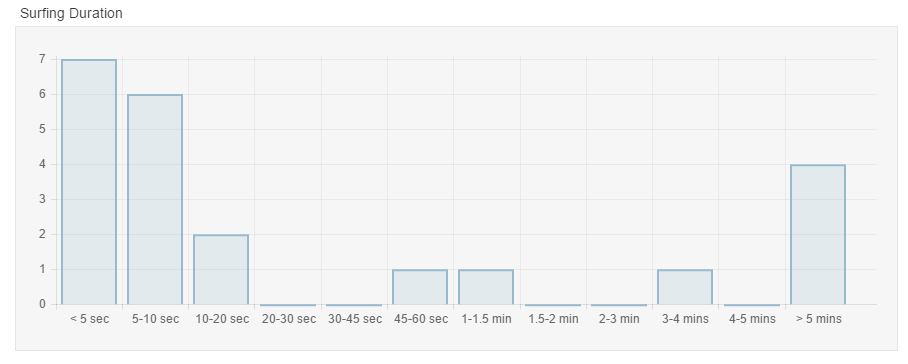 Revenue Sharing
New with version 2.0 is revenue sharing. Leads Leap shares 5% of its daily revenue with all members that clicks on 10 ads or more. The more credits you earn each day, the more money to get added to your account. Pro members get double. This will change each day but lately it's been about 1 cent per 4 credits for free members and 1 cent per 2 credits for pro members. You can then cash out your credits for more cash if you don't need the advertising. They also share weekly revenue with members who bring in outside traffic to the text ads. This can be done by either adding their widget to your website or using The Real Tracker. Free members get a 15% share while pro members get 30%.

Pro Member Features
The pro member upgrade is $27 a month. For that you get double the daily and weekly revenue share earnings, double the commission on upgrades, spillover leads added to your downline, and access to pro ads. The spillover leads are added to level 11 in your downline. That means that they will see your downline ads but you wont earn credits from them. Pro ads are shown 24/7 without any credits. They are displayed in more places than free ads such as on The Real Tracker and in the daily emails. Plus, 5 star pro ads get huge exposure. They are displayed at the top of each page in the members area and featured in the daily emails. In the past 7 days, my pro ads received 481 real clicks and over 1,450 in the past month.
Results
I used both Leads Leap free and pro ads to advertise my
List Spark
and my
Free 1 Hour Traffic
squeeze pages.
Final Thoughts
Leads Leap 2.0 is a great source of high quality traffic and tools. As you can from my results, I was able to get 48 new subscribers and 2 sales. That's only $0.56 per subscriber by using both free and paid ads. When you factor in the $14 commissions I earned from those sales, I only paid $0.27 per subscriber. This was mainly because my Free 1 Hour Traffic page was rated 5 stars by the Leads Leap community. This gives my ad more trust, clicks, exposure, and conversions. If you have high quality offers, then I strongly recommend Leads Leap as a traffic source. At the very least, I would recommend you use their tracker along with whatever conversion tracker you're currently using.

Leads Leap Review
Targeting

Price

Extras

Quality
Summary
Targeting - Text ads have great targeting but Leads Leap ads extra targeting but allowing user to break up their ads into different categories. The fact that visitors need to keep your page in focus for more than 5 seconds in order to use your credits is also a great way to increase visitor quality.
Price - Between the traffic, the tools, and the revenue share earnings, there's a ton of value for free members. The Pro membership is also great if you have a good funnel that can take full advantage of all the traffic. I would definitely try things out as a free member first before upgrading. The best part about being a pro member is the fact that you can add and remove links to get instant traffic to any offer whenever you want.
Extras - As I already mentioned several times, I love The Real Tracker. I even spoke to the admin about adding conversion tracking. The site builder script and the popup generator are also very useful. Plus the fact that you can use both of them as lead magnets is a brilliant idea.
Quality - The conversion rates are really low which is common for these kind of sites. I decided to boost the rating to a 4.5 because of those two sales. Credits on free ads are used up almost immediately and pro ads deliver traffic almost instantly.
Comments Rating
( review)