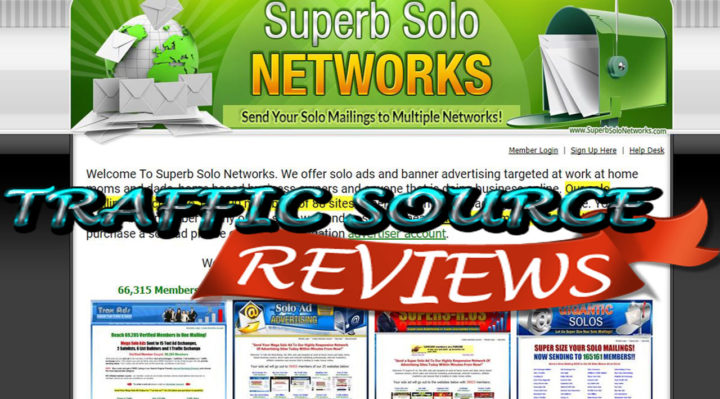 Send solo ads to the members of over 80 different sites
Display banner ads on several different sites.
Promo codes to 80 traffic generation sites.
50% referral commissions
Overview
Superb Solo Networks is a safelist blaster site that lets yo mail out the member base of 4 different safelist networks for a total of 80 different safelists. The combined membership of all the sites is well over 300,000. Sites like these are great if you want to use safelists to promote your offers but you don't want to waste time reading the emails of other members. You can also buy banner advertising across all 4 networks as well.
Extras
Superb Solos also has few extras that provides a little more value to their members. They have promo codes for all 80 of the different traffic sites should you want to actually join them. They also have an affiliate program that offers 50% commissions on everything your referrals buy. They also have ad tracking within the members area that lets you see how well your ads are doing.
Results
Rather than buying a solo from each network, I decided to buy the special offer which gives you 4 solos from the 3 smaller networks and 10,000 banner impressions for $37. Here are my results from each network.
Solo Ad advertising Network
The Solo Ad advertising network consists of 25 sites with over 55,000 members. I sent out 3 different solos to this network. The page that I used was my
List Spark squeeze page
.
Solo 1 had 434 clicks and 4 conversions
Solo 2 had 394 clicks and 3 conversions
Solo 3 had 408 clicks 3 conversions
Trax Ads Network
The Trax Ads Network has 15 sites with a combined membership of over 69,000 members. I also sent out 3 solos using the same squeeze page.
Solo 1 had 335 clicks and 2 conversion
Solo 2 had 309 clicks and 1 conversion
Solo 3 had 315 clicks and 1 conversion
Supers R Us
Supers R Us has a network of 19 sites that consists of over 40,000 members. I sent out 3 solos using the same squeeze page.
Solo 1 had 170 clicks and 1 conversion
Solo 2 had 158 clicks and 1 conversion
Solo 3 had 147 clicks and 1 conversion
Gigantic Solos Network
The Gigantic Solos Network has 88 sites with a combined membership of over 165,000 members. Solos for this network were not included in the special and are a bit pricey when bough individually ($33). However, I've discovered that you can get them cheaper if you actually buy it directly from their website. So I'll review their service at a later date.
Banner Ads
I won't review the banner ads since they are a bit slow. It will take me over a month to get threw all 10,000 impressions. I can report that after a few days I got 9 clicks out of over 800 impressions. So I'm sure there will be a consistent 1% click thru rate.
Superb Solo Networks Review
Targeting

Price

Extras

Quality
Summary
Targeting - When advertising on Superb Solo Network, you know exactly where your ads are going and the type of audience you're advertising to. They even tell you how many clicks your link gets.
Price The price for each solo individually are definitely not worth it. However, if you buy the one time offers, you get a good amount of advertising for your money. It is still a little puzzling why the prices for Gigantic Solos are more expensive than buying from their own site. When I used up all of the solo ads, I walked away with 25 new subscribers for $37. That's $1.48 per subscriber.
Extras The referral program are a nice touch. The banner ads was also a surprise. Though someone would have to get better geed results in order to want to promote the site.
Quality The quality of the traffic is pretty much typical of any other safelist. 1% or 2% conversions with only 13% to 19% coming from tier 1 locations.