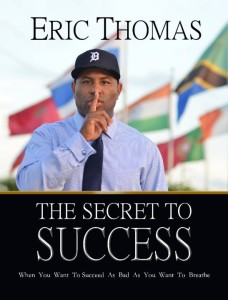 Eric Thomas A.K.A. The Hip Hop Preacher is a motivational speaker and Pastor that I stumbled across on YouTube over a year ago. It just so happens that I was also just getting started in this whole Internet Marketing thing.
This story he shares about a young man asking a guru how to be successful was just what I needed to get me through the pitfalls of starting a business. I must have listened to it a dozen times.
There are a few edits of it on YouTube displaying several different situations. I've included my favorite one here on this page along with the full speech.
Go ahead and watch the video or just listen to it while your working on your own sites. I promise you wont be disappointed.
You can follow Erick Thomas on his Facebook page here https://www.facebook.com/THEHIPHOPPREACHER/
The Secret To Success: Short Version
The Secret To Success: Full Version