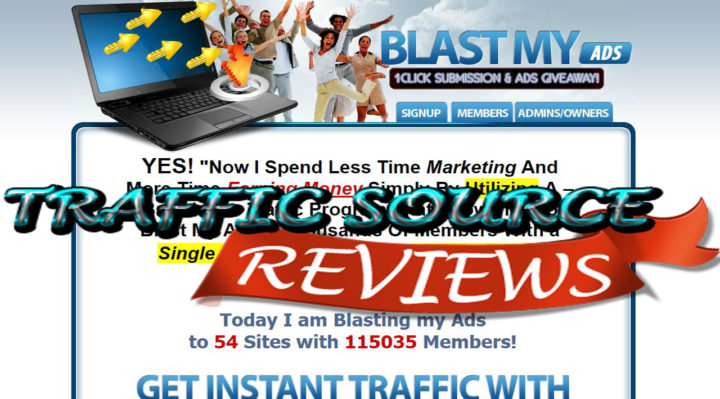 Email over 100,000 Members


Banner Ads & Text Ads


Earn Paid Solos For Free


50% Commission On Ad Sales


Free Promo Codes for 43 Different Traffic Sites


Overview
Blast My Ads is a Super Solo submitter that mails out to 61 different traffic sites with a combined membership of over 100,000. They also offer other forms of advertising such as banners and text ads but the solo ads are by far the bulk of their advertising. They guarantee an average of over 400 clicks per solo.
You can buy solo ads individually for $8.95 each but you would be much better off buying bundles. For $25 you can get 10 solo ads, 10 text ads with 1,000 impressions, 10 banner ads with 1,000 impressions, 10 link ads with 100 clicks, and 10 login ads with 500 impressions. You can also earn free solo ads by reading ads of other members in the members area but it will require over 150 views.
Extras
The site offers several extras such as promo codes for 43 traffic sites, an affiliate program that offers 50% commissions, and a viral URL cloaker that tracks visits and displays an affiliate banner at the top of your link that actually converts. This can be an easy way to get referrals while promoting other things.
Results
So far I've sent out 4 solos but only 3 of them are complete. For this example, I used my
List Spark Squeeze page.
Solo Ad 1
– 677 clicks, 588 unique visitors and
5 conversions
Solo Ad 2
– 620 clicks, 516 unique visitors and
4 conversions
Solo Ad 3
– 848 clicks, 722 unique visitors and
9 conversions
As you can see, each solo produced conversions. The one that is currently running has given 2 subscribers so far. I haven't even use half of my advertising yet and I've already gained 15 new subscribers. By the time I use up my full $25, I should have over new 30 subscribers.
Final Thoughts
The quality of the traffic is pretty low since it's coming from safelists and traffic exchange sites but it does still convert. If you don't yet have a list of your own but you want to promote some free offers, you can get some very cheap signups here. If you're promoting a high converting free traffic offer, then you can expect to pay around 50 cents per signup if you buy the $25 package.
Blast My Ads Review
Targeting

Price

Extras

Quality
Summary
Targeting - You know exactly where your ads are being shown. They will either be in the members area or at one of the 61 partner sites. They even have solo ads tracking that tells which sites each click is coming from.
Price - The regular prices are a bit too high but the bundle prices are great. Thanks to the $25 bundle, I am only paying $0.57 per subscriber so far. I'm glad that they offer a way to get solo ads for free but I'm not sure if the amount of work required is worth it.
Extras - The promo codes are useful for those who wish to join any of the partner sites but chances are, no one who uses Blast My Ads will be interested in surfing for credits. The best extra is the affiliate program combined with the URL Cloaker. By using the Cloaker, I was able to get referrals to Blast My Ads while promoting List Spark on another site. This is an easy way to make some extra money.
Quality - So far I've been able to get a 1% or 2% conversion rate from my solo ads. This is normal for most safelist mailers. Only about 11% of the traffic was from tier 1 countries.