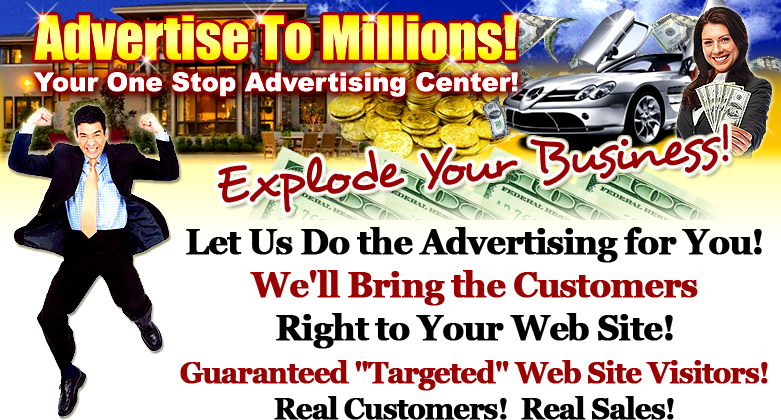 Send a Solo to over 500,000
Free HTML ad creation
Mail over 300 safelists
Up to 100 days of advertising per order
Up to $100 commissions per sale
Overview
Advertise To Millions is a Internet Marketing news letter that also doubles as an advertising agency. according to their website, they have been building a list of subscribers since 1997. For a fee they will advertise your offer to their list along with a few other places. They make some very bold claims on that sales page that don't seem to hold up. You can even become an affiliate of their services for a hefty $98 fee.
Services
There are three different levels of advertising you can buy. I will go over each as well as what you get for the price.
Silver Package
– $149.00 They send your solo ad to 157,000 subscribers.
Gold Package
– $199.00 Your Solo Ad sent to 300,000 subscribers.
Ultimate Package
– $299.000 Your solo ad sent to 500,000 subscribers, a contact solo to 315 safelists, a solo mail to the Entrepreneur Network, 1,000 redirect visitors, 1,000 30 second visitors, a daily email to over 1,000 for 100 days and a free affiliate account.
Affiliate Program
There are two ways to become an affiliate. You can either pay the $98 fee or buy the Ultimate Package. You earn $25 for every sale of the Silver and Gold packages and for selling an affiliate account. You make $100 on every Ultimate package sold. You also make $25 when your 2nd level affiliates make sales.
Extras
There are a few extras that are worth mentioning. When you order a package, you get an html ad created for your offer. The ad is customized with your contact details. I used my Free Leads Forever squeeze page because it converts very well. Here is a copy of the ad they made for me.
When you sign up as an affiliate, you are give a huge resource full of different sources to advertise. They include both online and offline methods. They even go as far as giving you links to magazine companies and showing you how to buy ad space in them. Once you become an affiliate, you can buy the Ultimate Package for $100 off.
Results
I decided to go big on this one. I bought the $299 Ultimate Package. My campaign has been running for 3 weeks so it's not complete yet but the bulk of the traffic has already come in. As stated before, I used my Free Leads Forever squeeze page.
Final Thoughts
Yes I did get some subscribers and yes my campaign isn't complete but I expected a lot more for $299. The main product is the email to 500,000 which has already gone out. After 3 weeks I highly doubt anyone else will be opening those emails. This is extremely low quality traffic and not worth the price at all. If things change during the campaign, I will update my review but I really don't see that happening.

Advertise To Millions Review
Transparency

Price

Extras

Quality
Summary
Transparency - They do tell you that most of your traffic will be coming from their list. They claims on how responsive that list is are flat out wrong. They also don't mention the safelists that your solo is sent to or where those redirect/30 second visitors are coming from.
Price - This price is crazy. Not worth the money at all. The only reason why I didn't give it a zero is because I actually did get something useful for my money (41 subs and ad copy).
Extras - The extras are actually pretty useful. I just might use the ad copy again that they made for me and I will make note of all of those great advertising resources.
Quality - The traffic quality is terrible. Out of 500,000 emails, I got only 1,300 clicks and 41 subscribers. Normally I would be a little more forgiving if this was a safelist but no safelist would charge $299 for a solo. They already know their traffic is low quality.
Comments Rating
( reviews)